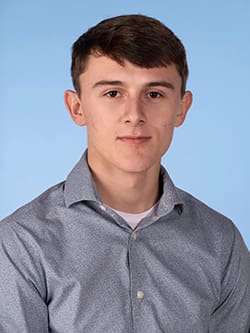 This week's Student Success and Persistence highlight comes from Trevr Bahr.
Trevr — a senior majoring in applied engineering with a concentration in facilities management — a Burlington, Kansas native who graduated from Burlington High School, will be one of the first students to graduate from the facilities management concentration.
He says that faculty and staff need to remember what students' needs are, and understand how the work they are assigned impacts their education, but in his department, he has found faculty who understand what student life is like and have helped him succeed inside and outside of the classroom, notably Kara McCluskey, associate professor of engineering.
"Kara McCluskey has always been very helpful with academic advising. She assisted me through the new curriculum. Also, Kara is connected with industry and set me up with an internship after my freshman year of college."
McCluskey is excited to see how well Trevr has done in the program and is excited to see where his career will take him.
"Trevr is an outstanding student and will be a highly successful facility manager. We could not have asked for a better student to be the first graduate from this program. He will be a great representative of Wichita State."
Do you know of a faculty or staff member who promotes student success, or a student who has been helped by a faculty or staff member, that should be highlighted in WSU Today? Email your ideas to Caelin Bragg, newsletter editor with the Office of Strategic Communications, at caelin.bragg@wichita.edu.