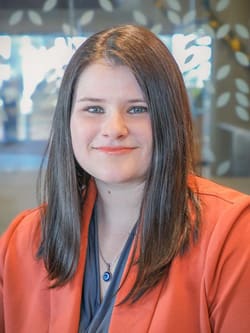 This week's Student Success and Persistence highlight comes from Mercedes Lubbers, student success and retention specialist in the Business Student Success Center.
What role do you think faculty/staff play in a student's success and persistence?
"I think faculty and staff, outside of finances, play one of the largest roles in a student's success and persistence. I feel it is my job to make my students feel understood, supported and cared about while guiding them because I remember what it felt like to be a student who struggled and at the end of the day, the faculty that supported me and who made me feel important were the reason why I successfully graduated (shout out to the English department)."
What is one small thing any faculty/staff member can do to make a student's day or let them know they're cared for?
"I think one of the easiest things we can do is making genuine eye contact with our full attention as we ask a student, 'How are you?' or 'How was your weekend?' Some question, whatever it may be, that allows you to show consideration and active interest in the student's answer. Some questions are easy to throw out there as habit, but people can tell when the question is asked as formality and when it is asked from genuine care."
How do you promote student success through your campus duties?
"It depends on how we define student success. For me, student success is when a student realizes what the best option, path or resolution is for them. I think this is where my strength lies since I engage students as individuals and care about their experiences and what they're going through. I utilize a 'strengths' mindset and will go over with students their strengths and areas they feel they need support; I ask them open-ended questions, and when requested, offer my own personal experiences and perspective to help them look at situations with more clarity, so that they ultimately draw—or learn to accept—their own solutions. This is ultimately why I love being an advisor and working with students."
Do you know of a faculty or staff member who promotes student success, or a student who has been helped by a faculty or staff member, that should be highlighted in WSU Today? Email your ideas to Caelin Bragg, newsletter editor with the Office of Strategic Communications, at caelin.bragg@wichita.edu.