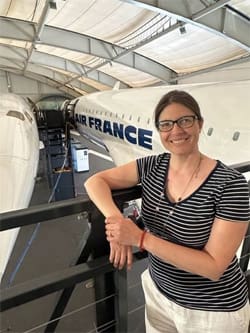 Hannah Bui is now prepared to work with French-speaking colleagues at Airbus, thanks to "Business French for Beginners" taught by Wichita State lecturer Rachelle Swilley.
Bui, a static stress engineer at Airbus, was one of about 15 employees who took the six-week course, taught for two hours each Friday, this summer at Airbus on WSU's Innovation Campus.
Airbus, headquartered in France, also has nine locations in seven Canadian cities, most notably Mirabel in French-speaking Quebec. The course focuses on phrases and vocabulary that will help Airbus employees with travel and basic work interactions.