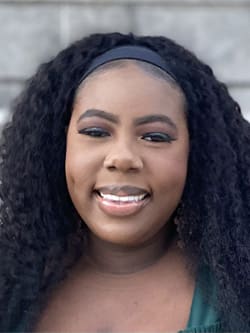 Abigail Moss, speech-language pathology graduate student in Communication Sciences and Disorders (CSD), was recently selected for participation in a national Minority Student Leadership Program.
The program's focus is to recruit and retain racial/ethnic minorities that have been historically under-represented in the professions of audiology and speech-language pathology. It is part of the American Speech-Language-Hearing Association (ASHA), which is the national professional, scientific and credentialing association for audiologists, speech-language pathologists and students within those disciplines.
Abigail is one of 40 students chosen from approximately 200 nationwide applicants. The participants will engage in leadership-focused educational activities at the 2023 ASHA Convention, which will take place November 13–18 in Boston, Massachusetts. The program helps students build and enhance their leadership skills and allows them to network with leaders in the professions of audiology, speech-language pathology, and speech, language and hearing sciences.