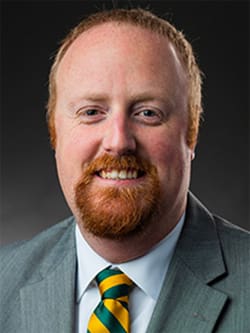 Dr. Brett Bruner, assistant vice president of Student Success and Persistence, will serve as interim director of the Office of Online and Adult Learning (OAL). He will continue contributing to Wichita State's student persistence initiatives in addition to his duties for OAL.
Bruner brings 15 years of experience in higher education and student affairs administration to the university in his role in Academic Affairs.
"I am looking forward to working with the Office of Online & Adult Learning team as we continue to support our online and adult students as they persist and reach their educational goals along their journey at Wichita State," Bruner said.
Bruner is taking over for Dr. Anna Porcaro following her departure from the university. Porcaro worked together with then-Provost Rick Muma and Tonya Witherspoon to establish the Office of Online Learning, where she was made executive director.
During her tenure, the university saw a growth to almost 30 programs, with over 1,600 students in the programs. She also managed the merger and creation of the Office of Online and Adult Learning.
"Anna took over the leadership of the Office of Online Learning at a time when online courses and programs were just beginning to grow exponentially," Provost Shirley Lefever said. "Her leadership and guidance helped to ensure our online offerings were high quality. She led many efforts directed toward providing faculty support for online teaching as well as program support including hiring a cadre of advisors for each online program. She also managed a successful relationship with Blackboard to promote our programs to external audiences which contributed to the growth of these programs. We're pleased that Brett Bruner has agreed to lead this office as we look for Anna's replacement. Brett's previous experience and success in student retention efforts will provide valuable oversight and unique perspective."