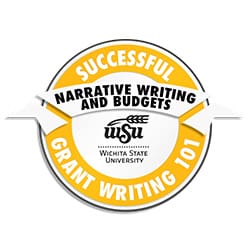 Wichita State's badge program makes workforce training and continuing education accessible and affordable. Each badge is designed with the practicing professional in mind so coursework can be completed online and at your own pace.
The Successful Grantwriting 101: Narrative Writing and Budgets badge program is a comprehensive introduction to grantwriting. Topics include developing grant opportunities based on your organization's strategic plan, researching grantmakers (funders), using the Request for Proposals (RFP) for successful project and proposal planning, understanding persuasive narrative writing, preparing the project budget, and optimizing the proposal for re-submission if it is rejected.
Additionally, the Successful Grantwriting 101: Theory and Practice badge program will offer a big-picture approach, more theoretical than the first, hands-on introductory course. Students will engage in discovery learning, focusing on online and library research. The assignments are designed to assist students as grant writers in developing a supportive theoretical structure for their project development and proposal writing processes.
Employees may apply for tuition assistance through Aug. 25 to cover the cost of the badge program.
To register for a badge program, follow the admission/enrollment instructions. For additional assistance, fill out the badge form and a representative from WSU will contact you to assist you with the admission and enrollment process.