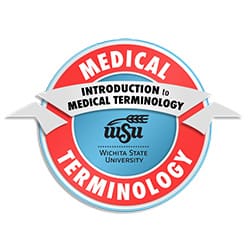 Wichita State's badge program makes workforce training and continuing education accessible and affordable. Each badge is designed with the practicing professional in mind so coursework can be completed online and at your own pace.
The Medical Terminology: Introduction to Medical Terminology badge program provides an overview of medical terminology. Students in this course will learn how medical terms are formed, how to effectively translate medical terms, and how to apply those terms to the medical setting. Students will also learn the terms used to describe the gross anatomy of the body and the position of the body, as well as the basic terms that relate to diagnostic and laboratory procedures, and pharmacology.
Employees may apply for tuition assistance through Aug. 25 to cover the cost of the badge program.
To register for a badge program, follow the admission/enrollment instructions. For additional assistance, fill out the badge form and a representative from WSU will contact you to assist you with the admission and enrollment process.