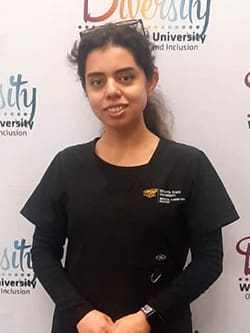 This week's Student Success and Persistence highlight comes from Fatemeh Farokhi.
Fatemeh — a senior majoring in medical laboratory sciences — graduated Farzanegan High School from her home city of Kerman, Iran before coming to Wichita State.
Being an ESL student, Fatemeh worried that she wouldn't be able to keep up with her workload, but those fears were quickly unfounded when she found the Medical Laboratory Sciences (MLS) faculty and staff were understanding and accommodating.
"The staff and faculty of MLS were really friendly and made me feel like I belong. They patiently answered any questions I had and gave me great advice along the way. Aisha Waite, chair of MLS, also introduced us to a book called 'Who moved my cheese?' in a management course that tells us not to fear change and adapt to the change quickly. It helped me a lot to look at things differently and reduce my stress when any change happens."
Katie Baskins, clinical educator in MLS, says it's important for faculty and staff to be open and available to students to help them not only with their stress, but also to share with them the passion for the subject.
"I valued Fatemeh's eagerness to learn. She is always well prepared with questions and didn't hesitate to reach out to me when needed. I think being open to students' needs is a vital piece in their educational growth, and being present with them helps alleviate the stress and anxiety that comes with higher education. I know this profession is my passion, and I share this with the students. For the student to be successful, the material needs to be clear so they can make those connections when it comes to patient care."
Do you know of a faculty or staff member who promotes student success, or a student who has been helped by a faculty or staff member, that should be highlighted in WSU Today? Email your ideas to Caelin Bragg, newsletter editor with the Office of Strategic Communications, at caelin.bragg@wichita.edu.