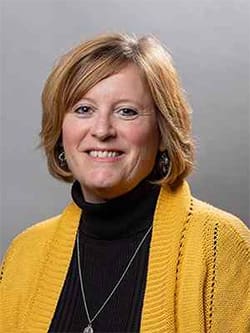 This week for F1RST-Gen Friday, Gina Crabtree — university registrar and director of Enrollment Services — shares her story of being first-gen.
How has your first-gen experience inspired you?
"While I remember wishing my parents had more understanding of the issues I faced when selecting and attending college, only hindsight helped me to fully recognize the difficulties and disadvantages of my first-gen experience. You don't know what you don't know. I'm proud to be part of a university community that is working to address the barriers many first-gen students face."
F1RST Gen Shockers promotes initiatives for first-generation students to ensure their success and seeks to build a culture of awareness and celebration for first-gen students at Wichita State.
Know of a campus community member who is first-gen who you think should be featured? Email your ideas to F1RST Gen Shockers at FGShockers@wichita.edu.