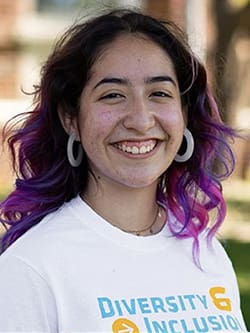 This week for F1RST-Gen Friday, Alondra Aguilera — a Wichita native, preK-12 Spanish education major and minoring in music — shares her story of being first-gen.
How does it feel to be the first member of your family to attend college?
"Being the first person in my family to go to college can be hard, especially because my parents had to immigrate here from México. I have had to figure out how to navigate college on my own. I also am the eldest daughter, which also has made it difficult as there hasn't really been anyone else to guide me through the process of getting into college. If it hadn't been for campus resources and programs, especially the Office of Diversity and Inclusion's Passage 2 Success and Latinos Lead, I would have had a harder time with my transition into college."
What piece of advice would you share with incoming first-gen college students?
"Having a support system is essential to help you get through the rough times. Talking to other students, faculty and staff can help you network and get resources to succeed in college."
Any advice you would share with the campus community working with first-gen students?
"I would ask WSU to explain to students the processes for financial aid and documentation processes while transitioning into college. They can improve this by using language that is accessible to everyone. This would help those who are the first in their families to attend college. They can also explain how college works to our families who may not understand. Providing information to students in multiple languages could also help parents who speak other languages become involved in their Shockers' education."
What do you hope to do after you graduate from Wichita State?
"I hope to become a Spanish Teacher in a public school district and possibly pursue higher education later in life."
F1RST Gen Shockers promotes initiatives for first-generation students to ensure their success and seeks to build a culture of awareness and celebration for first-gen students at Wichita State.
Know of a campus community member who is first-gen who you think should be featured? Email your ideas to F1RST Gen Shockers at FGShockers@wichita.edu.