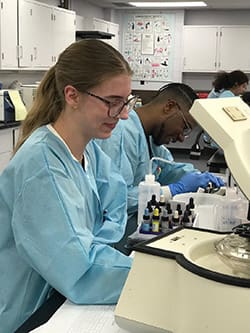 This week's Student Success and Persistence highlight comes from Autumn Ginther.
Autumn — a senior in medical laboratory sciences with a minor in health science — came to Wichita State after graduating from Mustang High School in Mustang, Oklahoma.
Autumn currently serves as the Medical Laboratory Sciences (MLS) Student Association president and found the encouragement she needed through the faculty in the MLS department, who went above and beyond in supporting her. She says that all faculty need to be available in making sure students are able to not only succeed, but thrive.
"One small thing that all professors should do is go the extra mile to connect with students. Whether this be reaching out when they notice a student is not doing well in a class or notice a change in attendance. Many students feel alone in college, and they feel that their instructors do not understand what they are going through, so I encourage both students and professors to reach out and be transparent with each other."
Aisha Waite, chair of medical laboratory sciences, agrees that faculty and staff always need to be available to students in order for them to succeed, and that this needs to be a united effort:
"I strongly believe that departments that operate as a team are successful in their goals, which is the success of the student. Being approachable and providing a strong support system is, in my mind, the key in successfully guiding students on their journey. Having that support system builds confidence, and confidence helps you move forward."
Do you know of a faculty or staff member who promotes student success, or a student who has been helped by a faculty or staff member, that should be highlighted in WSU Today? Email your ideas to Caelin Bragg, newsletter editor with the Office of Strategic Communications, at caelin.bragg@wichita.edu.