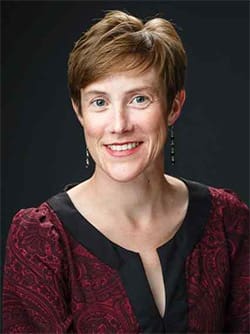 This week's Student Success and Persistence highlight comes from Moriah Beck, professor in Fairmount College's Department of Chemistry and Biochemistry.
What role do you think faculty and staff play in a student's success and persistence?
"Faculty are unique in that they interact with the same students every week of the semester in their classroom. We have the opportunity to challenge our students to grapple with difficult or complex concepts, but we should also help them acquire the skills necessary to improve comprehension so they can face future problems."
What is one small thing any faculty or staff member can do to help a student succeed?
"Sharing my enthusiasm for learning new things and being challenged to forge new paths in my field is a small, but impactful way I can inspire students to see the big picture and start imagining their role in changing the world. Often this means that I highlight areas of biochemistry where we have important, unsolved questions: How did life begin? How does the environment influence our genes? Why do we need to sleep? It is also important to explain how we came to know or discover things, the challenges overcome by humans and the people involved in this process of discovery."
How do you promote student success through your campus duties?
"One of the most impactful experiences that many students have is the opportunity to work on novel research projects, and I have endeavored to provide more of these types of opportunities. First, I developed a course-based undergraduate research experience (CURE) in the biochemistry lab that gives students the chance to come up with their own hypotheses, generate a novel mutation in a protein and carry out experiments that no one else has done before. Next, I created the First Year Research Experience (FYRE) in STEM program to match first year students with research mentors across campus for an early exposure to hands-on research. Lastly, I have welcomed over 60 undergraduates to work alongside graduate students in my own research lab as we aim to understand mechanisms of heart disease and cancer."
Do you know of a faculty or staff member who promotes student success, or a student who has been helped by a faculty or staff member, that should be highlighted in WSU Today? Email your ideas to Caelin Bragg, newsletter editor with the Office of Strategic Communications, at caelin.bragg@wichita.edu.