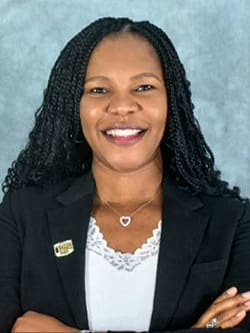 This week's Student Success and Persistence highlight comes from Dr. Mercy Umeri, assistant teaching professor and MiniMPA coordinator in Fairmount College's Hugo Wall School of Public Affairs.
What role do you think faculty and staff play in a student's success and persistence?
"As a faculty member, the core of our work is to ensure the success of students beyond the classroom. We must believe in the ability of our students to succeed. We must let our students know that they are co-producers of their knowledge and that we are the facilitators. We can empower them, even if they are still figuring out their career paths. This shift in mindset encourages students to stay engaged and committed to their studies and to know that they have what it takes to succeed. We must take time out to walk them through the difficulties they're facing and point them to other resources that will help them succeed. As a first generation college student, I understand firsthand the importance of having faculty members who believe in you and push you to succeed."
What is one small thing any faculty and staff member can do to make a student's day or let them know they're cared for?
"We can all do better with listening to our students more. Our students are doing their best to combine life and studies and sometimes, they may get overwhelmed. I try to come to class a little early so I can chat with my students before class. I have my office hours, but I always want my students to know that they can always talk to me, not just when they have challenges with my course. Listening to them in a 'non-formal' setting helps you listen to some of the challenges they face, ones they may not ordinarily share. Sometimes, after listening to them, all they need is a little nudge and encouragement to continue to stay engaged."
Do you know of a faculty or staff member who promotes student success, or a student who has been helped by a faculty or staff member, that should be highlighted in WSU Today? Email your ideas to Caelin Bragg, newsletter editor with the Office of Strategic Communications, at caelin.bragg@wichita.edu.