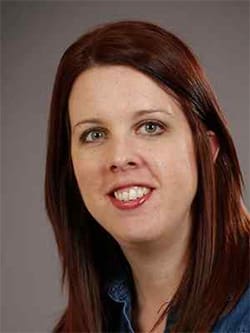 This week's Student Success and Persistence highlight comes from Sarah Taylor, director of undergraduate programs and associate educator for the Department of Public Health Sciences in the College of Health Professions.
What is one small thing any faculty or staff member can do to make a student's day or let them know they're cared for?
"As faculty, we have more 'face-to-face' time with students than most anyone else on campus. It's important that we use our role to help and encourage students. I believe a really easy way faculty can do this is by showing students they care about them. This can be done in a variety of ways, through Blackboard announcements, individualized feedback in Blackboard on assignments, an email to a student who hasn't been attending class or turning in work, and by acknowledging the student's struggle when responding to an email."
How do you promote student success through your campus duties?
"Through the past academic year, the Retention Faculty Fellows hosted monthly Teaching Matters events for faculty to gather and discuss ways to increase student retention. Some great ideas came out of these events, including giving students a way to connect in class to learn about campus activities outside of class. We discussed providing a few minutes during class for students to give announcements about upcoming activities they are planning to attend as an invitation to others to come with them. One student on our panel during this discussion said this was how he had become more involved on campus because he knew at least one person who was going to attend and that made him feel more comfortable. It's important for students to find their community on campus as those who feel connected to faculty and other students are more likely to persist."
Do you know of a faculty or staff member who promotes student success, or a student who has been helped by a faculty or staff member, that should be highlighted in WSU Today? Email your ideas to Caelin Bragg, newsletter editor with the Office of Strategic Communications, at caelin.bragg@wichita.edu.