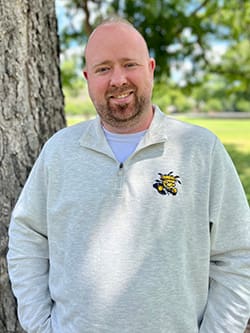 This week's Student Success and Persistence highlight comes from Chris Megonigle.
Chris — a senior majoring in health science and minoring in public health and health care management — enrolled at Wichita State after graduating from Mulvane High School.
After struggling to find success in college in his first attempt, Chris gave it another go in his adulthood and found faculty in the Department of Public Health Sciences who supported him and were actively engaged in making sure he was able to keep up with his schoolwork and personal life without burning out. The faculty members he is most thankful for are Sarah Taylor, director of undergraduate programs and associate educator; Dr. Stephen Arnold, professor; and Dr. Suzanne Hawley, professor.
"Taylor was my point of contact when I was recovering from the signs of burnout apathy and listened and provided feedback as I returned to WSU. Dr. Arnold has been instrumental in planning the next steps of my education, inspiring me to take a path that I had not thought about previously and providing guidance and support as I begin to apply to graduate education programs post-WSU. Dr. Hawley looked beyond the academic setting and made a connection with me as a person and understood that, while there are students who have the 'typical college experience,' there are a great amount at WSU who do not. As I prepare to leave WSU, I could not be more grateful to those three for keeping the light on at the end of a very long and arduous tunnel."
Taylor says that faculty and staff need to take a proactive approach to finding and helping students who are struggling in school, even if they aren't displaying any signs of concern, and let them know that they are always available for concerns inside and outside of the classroom.
"As faculty, we should want our students to feel comfortable coming to us to ask questions about class, or let us know if they are struggling outside of class, so that we can best help them through the variety of services available to them at WSU."
Do you know of a faculty or staff member who promotes student success, or a student who has been helped by a faculty or staff member, that should be highlighted in WSU Today? Email your ideas to Caelin Bragg, newsletter editor with the Office of Strategic Communications, at caelin.bragg@wichita.edu.