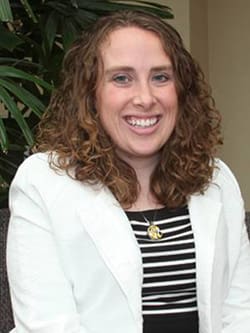 This week's Student Success and Persistence highlight comes from Dr. Chelsea Redger-Marquardt, assistant dean of the Cohen Honors College.
What is one small thing any faculty or staff member can do to make a student's day or let them know they're cared for?
"Build rapport with your students. Listen to them — they are fantastic humans. Dream with them — make suggestions for courses, programs or opportunities that you think the student would be great for. A person telling you that they think you would be awesome at doing something goes a long way in building confidence and a student seeing themselves as a part of a community or experience."
What role do you think faculty and staff play in a student's success and persistence?
"It's vital. Every chance you get to interact with a student; every class you teach, every program you host, every service you provide is a chance to create a moment for a student — hopefully one that inspires, makes them curious and reinforces that they matter."
Do you know of a faculty or staff member who promotes student success, or a student who has been helped by a faculty or staff member, that should be highlighted in WSU Today? Email your ideas to Caelin Bragg, newsletter editor with the Office of Strategic Communications, at caelin.bragg@wichita.edu.