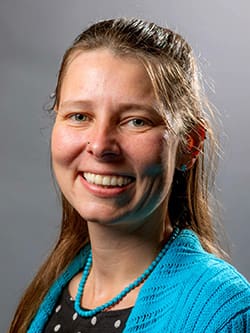 This week's Student Success and Persistence highlight comes from Meghann Kuhlmann, instruction and research services librarian and associate professor for WSU Libraries.
What is one small thing any faculty or staff member can do to make a student's day or let them know they're cared for?
"When we interact with students, we can take an extra step beyond the inquiry at hand and ask how their studies are going in general or if there's anything more they need to feel supported. That can go a long way toward making students feel welcome on campus and help identify issues they might not have thought to bring up initially."
How do you promote student success through your campus duties?
"Students sometimes feel uncomfortable asking questions because of a belief that they 'should' already know certain things or be able to figure it out themselves. I try to encourage students to ask questions by letting them know it's a strength to seek out resources and reminding them that faculty and staff are here to support them every step of the way."
Do you know of a faculty or staff member who promotes student success, or a student who has been helped by a faculty or staff member, that should be highlighted in WSU Today? Email your ideas to Caelin Bragg, newsletter editor with the Office of Strategic Communications, at caelin.bragg@wichita.edu.