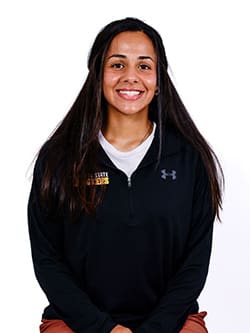 This week's Student Success and Persistence highlight comes from Lubna Aldulaimi.
Lubna — a senior majoring in exercise science — made her way to Wichita State after graduating from Tomball High School in Tomball, Texas. She is currently a member of the track and field team.
Lubna found it difficult balancing the time required for school, work, track and family, and was worried about asking for the help she needed for fear of it being seen as her making excuses. However, she was able to find support through Kristyn Waits, design educator and communication manager for the College of Innovation and Design, who saw Lubna struggling and offered her an extension in her class.
"I just needed someone to press pause and let me catch back up and Kristyn Waits did that for me. One day, we had a major project due that I was very behind on, but I didn't want to ask for extra time because I didn't want my professor to think I was this bum athlete who is just looking to make excuses. She was able to notice me and gave me an extension without me asking for it. Maybe she couldn't see how drained I was mentally, but that gesture meant so much to me. I really appreciated it so much. We only get to see her once a week, yet that day, I felt the most cared for. That extension on my project gave me the time I needed to breathe and catch back up with life."
Waits says that faculty need to be aware of what students are dealing with outside of the classroom to better serve their needs and make sure they succeed in their studies.
"I think it's important to remember that our classes are not the only thing our students are focused on. Many students work, have families, are involved in various organizations, play sports or, in Lubna's case, all of the above. Having some empathy for students is the least we can do as faculty."
Do you know of a faculty or staff member who promotes student success, or a student who has been helped by a faculty or staff member, that should be highlighted in WSU Today? Email your ideas to Caelin Bragg, newsletter editor with the Office of Strategic Communications, at caelin.bragg@wichita.edu.