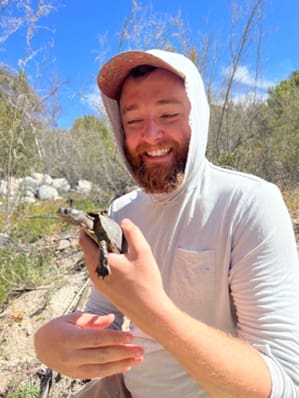 Dalton Stanfield will speak as part of the Disaster Resilience Analytics Center (DRAC) seminar series from noon to 1 p.m. Friday, May 19 via Zoom. The presentation will late be available on the DRAC seminar series YouTube channel.
The talk, titled "Perspective, finding data in unusual places," will draw upon the history of water on earth and man's interaction with it. Examples to be discussed include; Florida, Houston, Lake Tulare and the Colorado River Basin. Each one of these case studies will be looked at for fundamental patterns, issues with past planning and how an ecologist could have predicted our current climate. From different perspectives we explore new ways to think about emergency situations and how perspective can lead us to effective but surprising solutions.
Stanfield grew up in Garden Plain, KS and then attended Wichita State, earning a bachelor's in international business with a minor in economics and a bachelor's in biological sciences with a minor in chemistry. He then attended Florida State university where he studied theoretical ecology and evolution and graduated with his master's in ecology. Stanfield currently manages his own environmental consulting firm specializing on work with endangered species and the impacts of infrastructure projects.