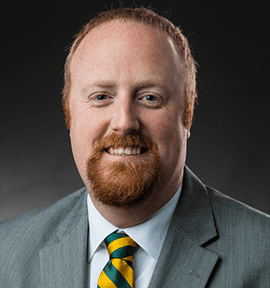 Academic Affairs is proud to welcome Dr. Brett Bruner as the new assistant vice president for Student Success and Persistence.
Bruner will join Wichita State effective May 15. As the assistant vice president of Student Success and Persistence, he will focus on how to best serve our students as they pursue degree completion by developing and directing university-wide student success and retention strategies and programs that align with the university vision.
He began as a peer mentor 20 years ago and most recently served as the assistant vice president and dean of students in the Division of Student Affairs & Enrollment Management at Missouri Western State University.
Bruner received his bachelor's degree from Emporia State University, his master's from the University of Central Missouri and his doctorate from Baker University.
"I envisioned one day leading student success efforts on a campus that is innovative in its approaches to authentically supporting student success… I have assumed leadership roles in supervising nearly every possible student services functional area (and then some)," Bruner said. "I am excited about the opportunity to use my skills and unique background to support Wichita State University."