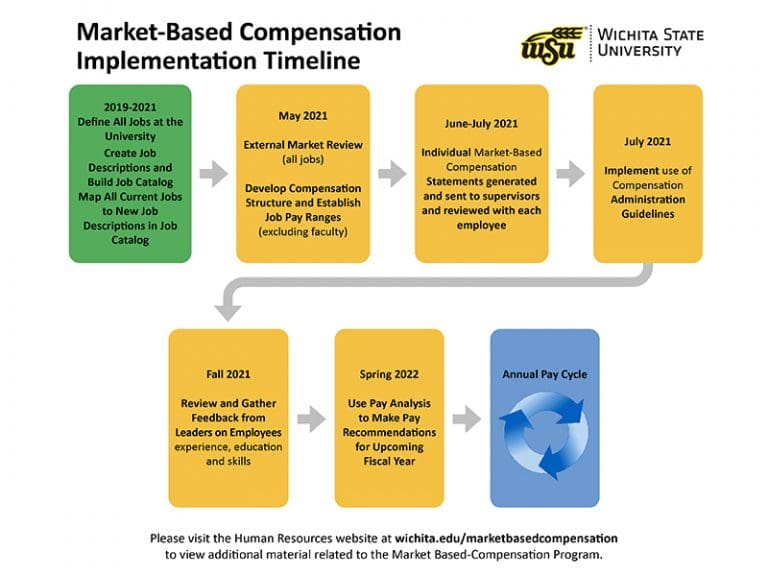 Here are a couple of questions raised during the faculty and staff Town Hall hosted by President Rick Muma and Interim Provost Shirley Lefever on May 13. Please visit the Human Resources website to view additional material related to the Market Based-Compensation Program.
Q: When will the university transition to market-based compensation be complete?
A: The university will complete the transition to market-based compensation in July 2021. The completion will align the University with the annual pay cycle and in fall 2021 HR will conduct a full base pay analysis to include:
Partnering with University leaders to gather feedback on each current employee's experience, education, and skills and determine appropriate placement within the assigned pay range (pay range assignments not applicable to teaching positions). When complete for each employee, this will allow us to review internal base pay equity.
Assessing how competitive our base pay is in relation to the external market.
Developing a multi-year strategy to prioritize future base pay increases to begin to close any gaps identified in the analysis, as funding becomes available for this purpose.
Establishing the annual pay cycle which starts at the beginning of each calendar year and includes updating market data, conducting a base pay analysis in advance of the budget cycle, and making base pay increases effective at the start of each Fiscal Year if funding is allocated for that purpose. No funding is allocated for pay increases for FY2022.
Utilizing the Compensation Administration Guidelines by leaders throughout the year to aid in creating consistency in the administration of base pay decisions.
Q: Will there be base pay increases in FY22?
A: Unfortunately, there were no financial resources allocated for base pay increases in FY22.
Q: Will departments that have financial resources be allowed to fund base pay increases?
A: The university will align to the annual pay cycle, use the results of base pay analysis to determine future base pay increases, and move forward in a unified approach. Base pay increases at the department level and not in accordance with the methodology established by the university will not be allowed.