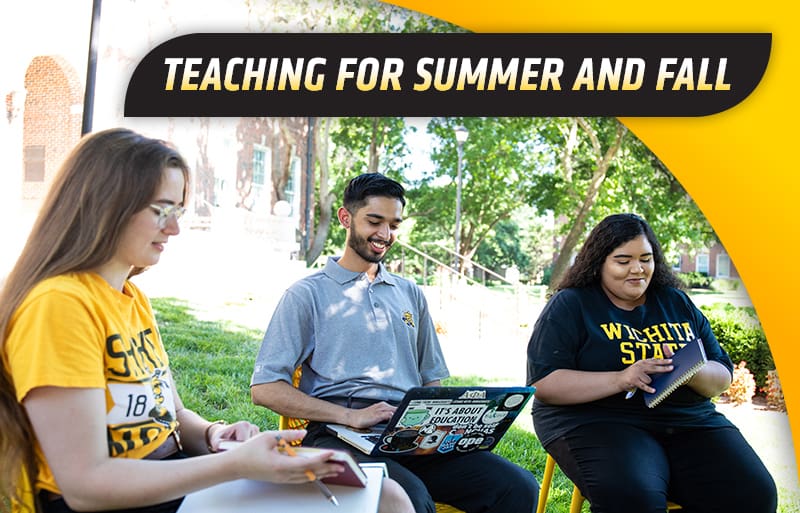 As we work to return to a more normal campus environment for summer and fall, the COVID Operations group would like to highlight some FAQs related to classroom instruction.  Additional questions can be directed to carolyn.shaw@wichita.edu to be addressed by this operational group.
FAQs Set #8: Questions about the Classroom and Campus
Can I require in-person attendance?

Yes. Students are expected to meet the stated requirements for their courses. Students should use the wichita.edu/fall2021 webpage to identify courses that work best for their needs. If a student believes they have a condition that requires accommodation where they cannot attend in person, they should contact the Office of Disability Services. Faculty will work with ODS to meet these identified accommodations.
However, instructors are encouraged to consider ways other than in-person attendance to assess participation and/or engagement. These alternative approaches can help ensure we do not disincentivize people to stay home or quarantine when sick. Instructors should ask students to monitor themselves for COVID-19 symptoms and instruct students who feel ill to not attend in-person meetings.


Is there a standard syllabus language we can use?
Yes. Here is a statement to include in your course syllabus:
The COVID-19 pandemic is a complex, challenging, and fluid situation, which continues to evolve. WSU will follow federal, state, and county public health recommendations and mandates in all decisions related to university operations.
Instructors should provide a clear statement of expectations on the first day of class promoting campus health and safety.
Have extra disposable masks available in case someone would like to wear a mask.
Strategic Communications, in coordination with Student Health and Wellness, continues to put out reminders to the campus community about best practices to stay healthy and safe.
Additional FAQs about teaching this summer and fall can be found on the COVID-19 university webpage.